Web design specialists
We build websites that help small business and enterpreneurs to grow and improve their results.
Web Design
Causing a first good impression to your potential client can mean the difference between a sale and a fail, and the first thing many of them will see about your business is your website.
Web specialize in building websites that turn visitors into clients.
Divi Child Themes
Divi is the WordPress theme/framework we are in love with and we use in all of our projects. Apart from our daily client work we are creating a number Divi child themes. Some will be available for free and some will not.
Corporative Identity
Your business visual identity must match your brand's personality so it transmits the desired image.
Domains & Hosting
Choosing the perfect domain name and the adecuate hosting technical specs for your website hosting is fundamental to the success of an online project.
Maintenance Plans
Websites need regular care to be in perfect shape. We can and will help you with all that, no worries.
What's our idea of the perfect website?
Our 7 principles for creating the perfect website.
SEO Friendly
Your website must be constructed so search engines consider it's contents relevant for searches related to your web topics.
Responsive Design
You really need to offer a good user experience to visitors regardless of what device they are using. We make sure your website will look and work great in mobile devices and in desktop computers.
Contemporary Design
We make sites following current design trends, but at the same time triying to make them durable, so they won't look dated after a short time. Elegance is timeless.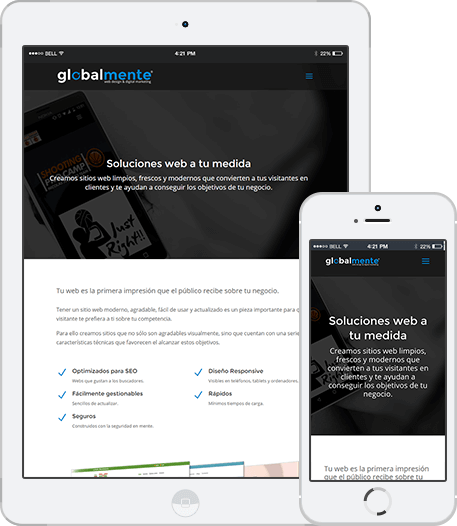 Easy to Maintain
Our websites are easy to maintain both for us and for our less tech savvy clients, thanks to the use of WordPress, Divi theme and a carefully curated selection of plugins and add-ons.
Safe from Hackers
There's no 100% secure site, but we follow best practices to ensure that your site is as strong as it gets agains hackers triying to harm your business.
Lightning Fast
Patience is so scarce nowadays that most visitors will just run away from your site if it takes more than just an instant to load. We make sure that doesn't happen to our clients.
Great Copywriting
The magic of words is a very important part in connecting with your potential clients, standing out from the crowd and making more sales. We can help you with that, too.
Portfolio
Have a look at some of our more recent projects
Want to see more? Please visit our full portfolio (sorry, still untranslated to english)
We are a small Web Design studio specializing in WordPress and Elegant Themes's Divi. Located in the sunny Seville (Spain), we like keeping things simple and make affordable sites for small businesses without sacrificing nor beauty nor functionality.
After more than a decade and a half working for big firms in corporate projects, some years ago we decided to take a leap of faith and come out of our comfort zone by running our own business. We needed some fresh air and we loved the idea of helping small business improve their online presence with our skills and experience.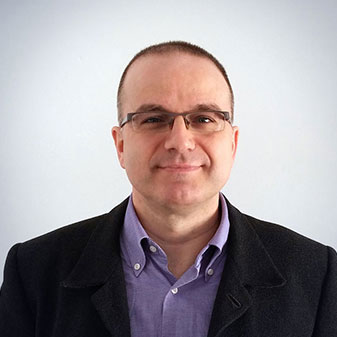 Eloy Sancho
Web Consultant
Having spent most of his professional career devoted to web technologies, he makes things work. While he is AFK… might be riding his beloved Brompton.
But we are not alone
During the almost two decades of web practitioning we have worked with many other good professionals from different areas related to our job. Some of them are now good friends and parterns in bussiness, so they help us in with some services we provide as we help them with their own services.
Contact Us
If you have questions or are interested in any of our services, please contact us at: